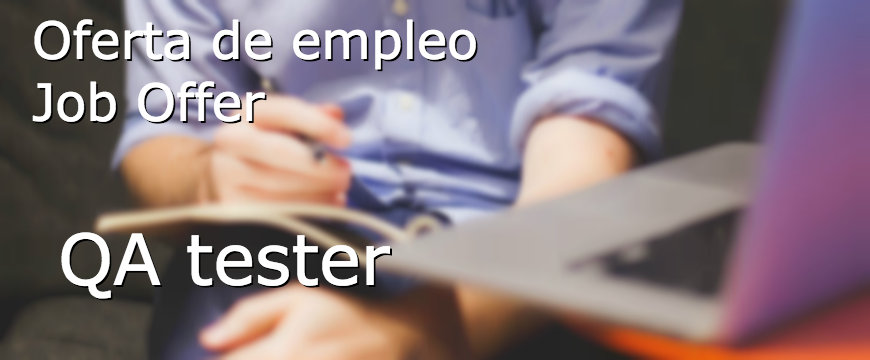 JOB OFFER: QA Tester
We need: Graduate in Computer Engineering or Telecommunications Engineering with scripting and system skills; the candidate will have the responsibility to test the product and identify possible errors
---
Available position
QA Tester. As testing engineer, you will work to make fail our product. It will be your responsibility to identify errors and its causes. For this, you must design and make both automatic and manual tests. In addition, you will work in tool development that allows to check the functioning of the product in order to detect and analyze errors as automatically as possible. This way, you can help the team to design and complete new functionalities and collaborate with the support team to solve the customer's problems.
Requirements of the candidate
Computer Engineering, Telecommunications Engineering or similar.
Scripting and system skills. Web and mobile programming skills will be valued.
Testing and test methodology basic skills.
Automatic tests technology skills.
User and customer handling skills, both technicians and no technicians.
English skills.
Experience in similar positions will be valued.
Duties of the position
You will be in contact with the development team and the users of the product, in order to understand the extent of the developments to make and help its planification.
You will design and make product technical tests: efficiency, functionality, usability, scalability, security…
You will design and develop both automatic and manual test in web and mobile environments.
You will design and develop data analysing tools that allows to detect anomalies in the system efficiency and identify the causes of possible problems reported by customers.
You will help the making and review of documentation (user guide, wikis, FAQs, etc.).
You will help the review of problems reported by customers.
Type of contract
Indefinite contract.
Salary
Fixed pay (depending on experience).
About Situm
Situm is a company created in 2014 by a group of indoor positioning experts from the University of Santiago de Compostela and a senior executive with more than 20 years of experience in the IT industry. Nowadays, Situm commercialises the most accurate indoor positioning system for smartphones without needing a costly infrastructure. At Situm, you will work with a great team in a dynamic and stimulating environment, in a company with a high growth potential.
For more information, please contact jobs@situm.es