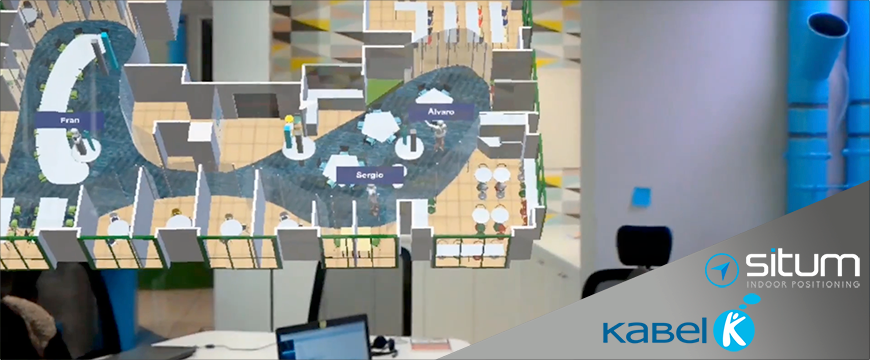 HoloSitum: indoor positioning through Mixed Reality
Situm and Kabel present a platform to locate users inside industrial environments through Mixed Reality devices
---
Situm and Kabel present HoloSitum, a platform to locate users inside industrial and logistic environments through Mixed Reality devices.
The team from Kabel, focused in design and develop digital solutions adapted to specific needs, have used Situm's indoor positioning and navigation technology to build a 3D virtual map able to show in real time the position of the visitors from buildings, as well as their movement, using HoloLens, the Microsoft's Mixed Reality device.
All of this without the need of beacons or other additional positioning hardware (only a smartphone), one of the main advantages of Situm's technology over other similar systems.
"With Situm, Kabel incorporates unique indoor positioning possibilities. This represents a great progress and can be used in industrial environments and other large buildings like hospitals, airports, museums, warehouses or manufacturing facilities", said Miguel Ángel Castejón, Kabel Lab's Director.
Thanks to devices like HoloLens, HoloSitum also can be used as a GPS for indoors. In this way, users would get routes and indications from their position to their destinies that would be shown over the real environment around them.