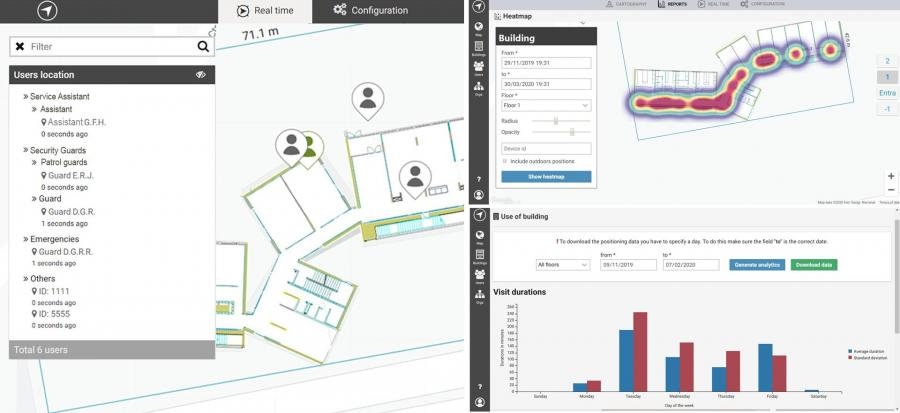 6 ways in which indoor positioning makes facility management easier
Facility management nowadays has little or nothing to do with what it used to be a few decades ago. Back then, this activity was reduced to the maintenance of the buildings and not much else. However, now we are faced with enormous challenges to ensure the optimum performance of infrastructures and services in airports, large office buildings, hospital complexes or industries. Challenges that find efficient answers in indoor navigation and the monitoring and management of workforces through geolocation.
---
Even though it is difficult to schematically explain what the management of large indoor spaces entails, we can say, generally speaking, that the term commonly known as facility management is based on the organisation of the infrastructure and space as well as the organisation and coordination of people. The goal is to ultimately "guarantee the safety, comfort, productivity and sustainability of those places in which people work, play, study or live in."

But as buildings become larger and intelligent, their management has become more and more complex. This is why an indoor positioning system that integrates indoor navigation with monitorization of workforces becomes a very useful tool because it allows facility managers to have a clear vision of the space and to visualise critical data. And it is that, unlike many software solutions, an indoor positioning system not only solves one problem: it allows to tackle the many challenges that indoor space management poses without adding complexity to it.
1. Knowing facilities in depth
The cartography on top of which an indoor navigation and monitorization system is deployed is a powerful tool to catalogue all the information about the facilities, a tool that can be easily accessible anytime, anywhere. Once it's customised and adapted to the manager's specific needs, it can become a roadmap to daily information if the person is in charge of a large space like a corporate office or a convention centre.
A dynamic map of your building or series of buildings allows you to have a clear vision of the facilities. Zooming in on the map will make points of interest appear more clearly, showing all the information related to the building and, in this way, you will be able to access data like, for example, what stores are located in certain parts of an airport; how many people fit in a meeting room or what technical equipment is available in each room.
The different elements included on a map may appear depending on the zoom level, so a store may appear from a certain zoom and a fire extinguisher from another. In this way, you will always have a clear vision of the space, no matter how many Points of Interest there are.
2. Guarantee a safe work environment